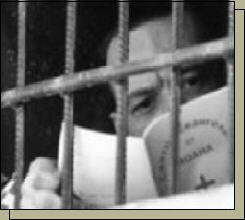 Outlaw daddy must decide,
can't take us kids
on such a ride.

Daddy, please don't go to jail,
I need more than
censored mail.

Please tell me you'll
clear your path,
without fear of
judgements wrath.

You can not be an outlaw - and a daddy too,
it spreads your love too thin -
and leaves me sad and blue.

In fact, I have to wonder - if you even care,
you have no time for me at all -
it really isn't fair.

I give you all my love - and try to keep a smile,
even though deep down inside -
I am crying all the while.

I know you need to run and hide - the law you dodge and dart,
but think of how you're tearing up -
my precious little heart.

If you want to be an outlaw - that's the life you want to lead,
I'll do my best to forget you DADDY -
so my heart won't have to bleed...




---
Would You Like to Know * Without a Doubt * That You Will go to Heaven
Click Here
IMPORTANT
Are YOU Struggling with Addictions or Other Problems.
Would you like to BREAK FREE from the Bondage
that keeps you from enjoying
True Happiness and Complete Freedom

Click Here for
"Recovery thru Redemption"